I may get accused of hyperbole at times but I consider the Cold Steel Micro Recon 1 to be the most useful and quite possibly the flat out best knife Cold Steel has ever made. Obviously Cold Steel makes a lot of knives that fit a lot of needs and it's difficult to compare a combat knife to a woods/survival knife or a skinning knife to a kitchen knife. What I am instead doing is a taking a knife within a specific category and comparing it to others on the market. They have really kicked some a** here :)
My video review is here:
The category in this case is the keychain knife. A keychain knife is (obviously) a knife that you carry with your keys. Normally it has a small lanyard hole that you can slide a key ring through or you attach it with a short cord or chain. In our society, a keychain knife can be the ultimate EDC (every day carry) knife as people rarely going anywhere without keys – house, car, work, whatever.
There are many (many!!) types of keychain knives out there, from the ridiculously overpriced to near useless junk. I found most unsuitable, either too large, too expensive (for intended use) or too junky to use, even to cut tape! What makes a good keychain knife? Here were my pre-micro recon 1 guidelines:
- light
- small
- not obvious/scary looking
- affordable
- sharp enough to at least attempt to cut a seatbelt
- easy opening, with either hand
The keychain knife I have been carrying around for years is one of a set of 30 or so I bought off ebay for $20 or so made by Ridge Runner? (pictured below); it met those guidelines well enough. I gave away most of the ones I bought as stocking stuffer-type gifts and kept a few around for my keys. They are nothing special but pretty good considering the price, just good enough to cut open envelopes and could cut through a seatbelt with some effort if you are careful. I would never choose to subject them to hard use (they aren't intended for it) except in an emergency as the locking mechanism is not strong and the whole knife can and will break apart with serious pressure.
With my new focus on
EDCing without pants
(no longer carrying a pocket clip knife), I started to consider upgrading. I wanted something a little stronger and more capable, as an option for times when I couldn't access my HAK for some reason. Not much was jumping out at me. I know some people consider the HAK a keychain knife; I just find it too big to carry that way and it jumps out at someone too much.
What I finally settled on was a Sypderco Manbug.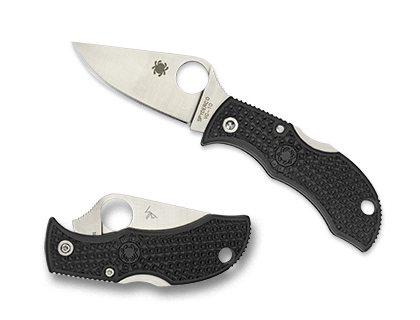 Image and specs from Spyderco:
length overall
4.46" (113 mm)
blade length
1.95" (49 mm)
blade steel
VG-10
length closed
2.51" (64 mm)
cutting edge
1.72" (44 mm)
weight
.65 oz. (19 g)
hole diameter
.39" (10 mm)
blade thickness
.098" (2.5 mm)
handle material
It appeared to be strong, sharp, well made, could be opened with both hands, and was about the right size. I don't like the bulged out back around the opening hole and it was a little expensive for that kind of knife (I don't think VG10 is really necessary) but I decided to give it a shot. After I ordered it on ebay, the retailer ended up having to cancel the order as it was out of stock. I started looking around for the cheapest place to buy one and, in the amazon recommendations, saw a knife by Cold Steel that I had never seen before, the Mini Recon 1. The comparison with my old knife shows the improvement pretty clearly.
Specs from Cold Steel:
Micro Recon 1 Tanto
27TDT
Specifications:
Weight: 1.1 oz
Blade Thickness: 2.5 mm
Blade Length: 2"
Handle: 2 3/8" Long. Faux G-10
Overall Length: 4 3/8 "
Steel: Japanese AUS 8A Stainless with Black Tuff-Ex™ Coating
Key Chain Ring
I like a lot of Cold Steel knives such as the Cold Steel Recon Scout (my old review
here
), an excellent large survival knife. The company has some history for me, I bought my first CS knife about 18 years ago, a folding tanto with a pocket clip, awesome knife. My girlfriend at the time loved it so much she used to "borrow" it on a regular basis - AND LOST IT!!!!!!!!!!!!!!!!!!!!!!!
Anyway, they have a lot of interesting, quality folding knives at prices that range from the affordable to the...not very affordable for me! and I have at one point carried the old style recon tanto, the latest version, and the mini ak-47. For various reasons, I passed on them as my regular EDC blade though I was extremely (extremely!!) impressed by their new tri-ad lock.
But this little baby puts them all to shame for value and EDC use. It was the ergonomics that impressed me immediately, the knife appeared to be a keychain knife that I could actually use – not just to cut a little tape but for some more serious tasks. The 2-finger handle on that blade is the best I have ever seen in a folding knife, deep finger choil, grippy handle, and a flat bottom to brace against your finger. The flat blade shape allows you to put your thumb along the back in a Filipino grip for maximum cutting.
As mentioned, the third finger of your hand (or pinky, with small hands) goes underneath the handle, giving you a ton of security if you are prying or stabbing with the blade and I love the tanto blade (also has a spear point option).
You could also loop your finger through a cord lanyard or key ring (as pictured) or grip a lanyard for extra security.
Dual thumb studs allow you to open the blade with either hand, the lanyard hole is big enough for a key ring, and it even has the uber-strong tri-ad lock. And all for $23!! Are you kidding me? Fantastic value, fantastic blade. Love love love it.
Have I said I love it yet? Just checking. Cause I do. Really.
So far it has been great, as far as I am concerned it sets the standard for keychain knives. Congratulations Cold Steel, fantastic job.


On one of mine I attached the
Miltner Adams Incredible SLC (Self Locking Clip)
clip with 3M double sided tape; this allows me to hang my keys inside the pocket without feeling the weight and makes it easier to access. Does add some bulk to the handle but provides an even better grip in some ways.
Keep in mind everyone, that every time you have your keys in your hand, with this knife on them you can also have a super capable small blade immediately available. Think it's too small? Look at this comparison to the HAK blade. It's plenty big enough if you know how to use it.
My video review is here